CouCou – LORA – An NFC zero power device for LORA-WAN
It is a Near Field Communication (NFC) device
It supports NFC P2P and RFID card/tag reader
It has a Zero Power bi-stable display 128×64 pixel
It communicates using LORA WAN
It is smaller than a credit card
It is an Ultra low power device
It is powered by a pair of CR2032 3V watch batteries
It supports many thousands of transactions with just 1 pair of batteries.
Frequency
920-925 MHz – Hong Kong
902-928Mhz – USA, Canada & South America (expect Brazil)
Other frequency bands – supported on request.
Contactless Protocol / Mode
ISO14443A / ISO14443B
Mifare Card Reader Mode
Felica Card Reader Mode
NFC Peer to Peer(P2P) Initiator Mode
NFC Peer to Peer (P2P) Target Mode
Contactless Operating Frequency
Contactless Reading Distance
CR2032 size 3V lithium battery removable type
Housing
ABS Plastic
Colour
Black / White / Custom
Dimensions
75 mm X 54 mm X 8.5mm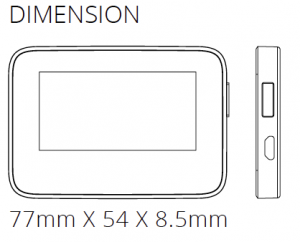 Read Contactless Smart Card
Software Development Kit : BUY Online
Custom App development support : Contact Prodigy Sales/Customer Service staff.
[/fusion_content_box]